I am seeing more and more light filled white painted rooms with shiny monochromatic finishes.  I love the simplicity, brightness, and energy these rooms bring; but what delights me more is the introduction of a woven layer.  A woven easily brings a sense of comfort, coziness and a little bit of Southern nostalgia to a room. Place a great basket in a modern monochromatic room and you instantly add warmth, and an organic fresh undertone to the mood of the room.
Rattan has been used for decades and no more than ever are there so many new forms and takes on this forever classic.  Whether your style tends to be preppy, feminine, modern, masculine, or vintage, the options to bring a woven aspect to a room are endless and so much fun to explore and mix with current trends.
Rich with sweeping lines inspired by Spanish architect Santiago Calatrava's World Trade Center Hub, known as the Oculus, our Eleanor chair delivers an undeniable unique style.  The grey wash finish accentuates its organic materials and adds not only texture to the room but an element of natural class. The negative space creates an airy volumne to the room. 
Mirrors create the illusion of depth and space so they can really help make a small room feel bigger.  I love how our Casey mirror is natural enough to work with any existing furniture in a room but yet its not a snooze fest.  Woven raffia is braided and set along the raised profile radiating from the center.  A woven mirror is an effortless way to bring interest and depth to a space such as an eclectic bungalow, bedroom, or other bright, casual spaces.
Photo taken from Bloglovin.com
There is something softening and grounding about a skirted table.  Popping up on designer and blog sites that are everywhere on the style spectrum, skirted tables are no longer just for traditional rooms.   They are easy to work with and as Scot Meacham Wood suggests, 'It's a great solution for a large entryway, as it gives you a certain amount of visual mass in what can often be a slightly cavernous space.'
One of my favorite takes on the skirted table are the exquisite and difficult to find vintage Trompe L'oiel wicker console tables.  The wicker gives an unassuming welcome effect, it somehow screams 'come in and relax'.    Hunt no more, we found the perfect take on this treasure at a more budget friendly price. Shop our Savannah console.
------------------------------------------------------------------------------------------------------------
 Layers of light lend all the romance to a space-everything that is good and sensual and wonderful - Beth Webb
I love seeing an outpouring of organic shapes now available to choose from in woven lighting.  The handmade materials brings an artisanal feel to modern interiors and lends a unique glow to a room.  Beth Webb recently released a new collection of rattan lighting for Arteriors Home and we cannot get enough of her birdcage like structures.  Each piece offers a warm layered light and the horizontal and vertical lines of the collection create subtle pattern play. Shop her collection and some added favorites in our statement lighting catalog. 
design is by @alexanderinteriorsnashville
------------------------------------------------------------------------------------------------------------
What exudes elegance is room decor that smoothly combines contemporary and classic influences. One of my favorite looks it a great marble Saarinen dining table mixed with cane back chairs.  The introduction of cane or natural wovens against marble keeps a feeling of glamour and at the same time promotes conversation and a comradeship to the space.  Shop our cane back dining chairs in the great finds section at the bottom.  
 📷 by @ stofferphotographyinteriors Design by @redesignhomellc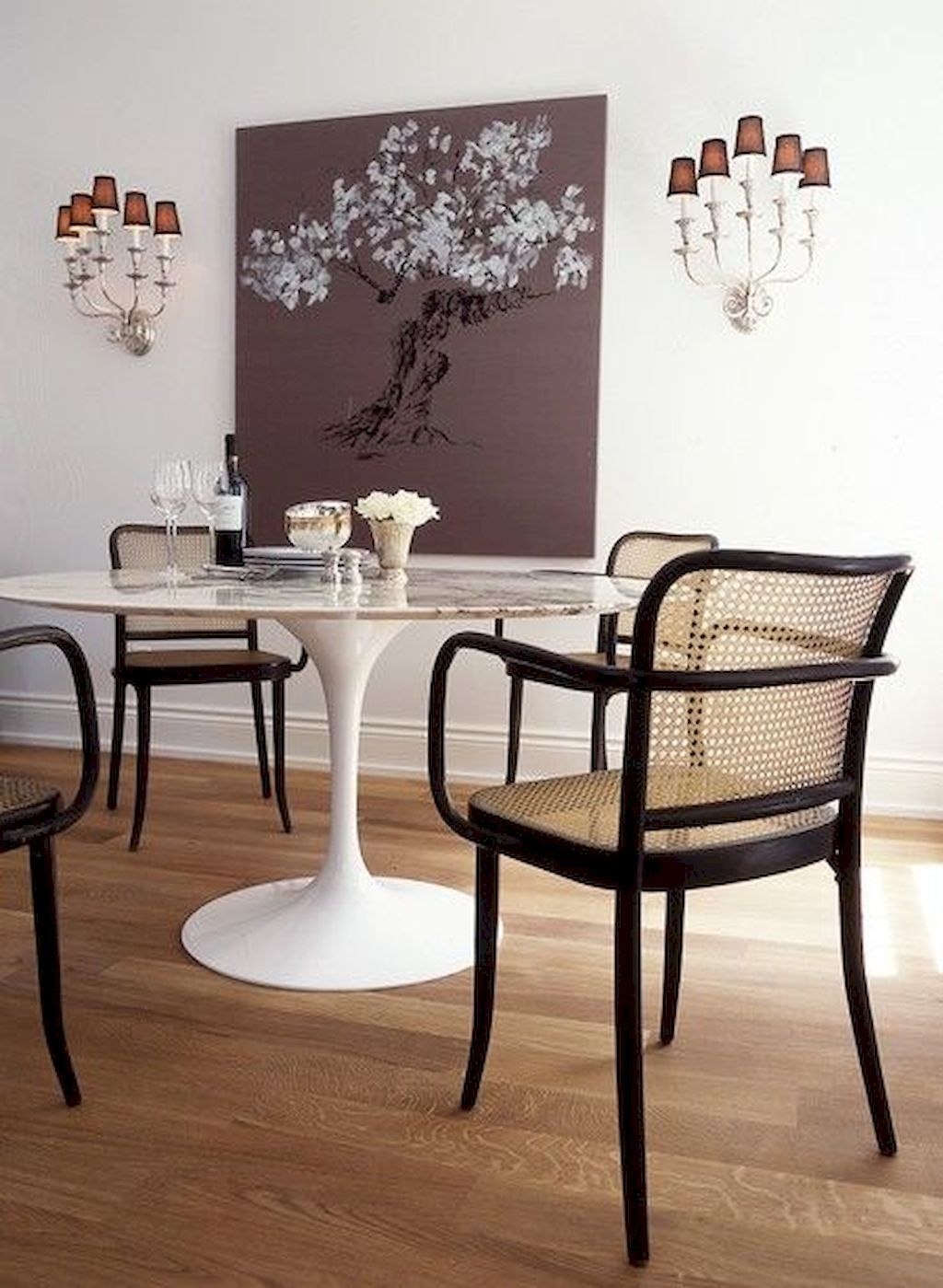 📷 found on www.houseandhome.com photo contests
📷 by @ stofferphotographyinteriors
------------------------------------------------------------------------------------------------------------
No matter how casual your home dining event is; a well set table creates an ambiance to the event almost as important as the meal and wine served.  We love how blogger Julia Berolzheimer mixed rattan glassware and classic blue and white china in her modern dining area.  The glassware brings a warmth to the setting and immediately calls for casual and comfortable conversation around the table.  Shop our rattan glassware in our Kitchen and Table Section.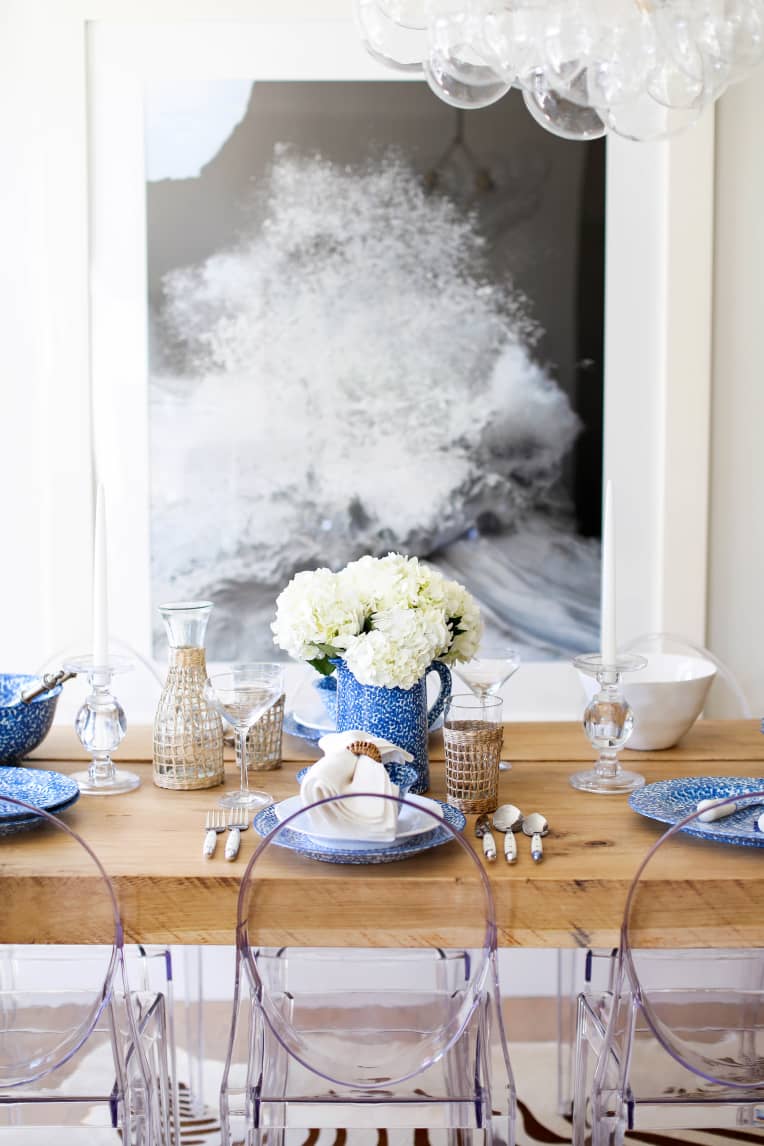 ------------------------------------------------------------------------------------------------------------
Too much of the same genre, materials, or styles in a space can lack personality and interest.  Mixing rattan and wicker accessories into a room easily transforms a space from looking "styled" to a more personalized collected over time look.  We are swooning on how these designs perfected the mix! Get inspired and shop our recommended accessory finds in our blog pin board.
Stunning as usual, we love how William McClure added an extra layer in this design by using baskets to hold potted plants.
 A curvy rattan tray serves up style and class in this home.
Amy Berry Designs uses a rattan tray on the coffee table to define space and hold collected books.  We also love how she uses baskets in corners to hold all the comforts of home, such as throws and blankets.
GREAT RECOMMENDED FINDS:  
1.  The Eleanor Chair 

 

2. Casey Mirror

 

3. Savannah Console

4.  Sea Isle Pendant

5.  Palm Beach Rattan Table Lamp

 6.  Parasol Table Lamp

 

7. Beehive Chandelier in Natural

 

8.  French Bistro Chair Set of 2

9. Curve Rattan Dining Chair Natural

10.  Bordeaux Rattan Dining Chair

11.  Seagrass Wine Glass 

 12.  Seagrass Cage Wide Tumbler

 13.  Rattan Scallop Square Tray Honey Brown or Whitewash

 

 14.  Rattan Ottoman Tray Honey or Dark Brown

15. Rattan Magazine Basket 

16.   Rattan Tray with Glass Insert

17.  Freya Cane Stool Table

18.  Cane Back Lounge Chair

19.  Natural Wicker Console Table 

20.  Cane Front Cabinet White or Gray